FIREWATCHER is a smart wildfire smoke detection solution to analyze
multi-channel CCTV videos with the use of deep-learning based video analysis technology
and to take initial measures for extinguishing wildfire whose smoke is detected in CCTV videos.
Expectancy effect
Applied technology

Simultaneous analysis on multi-channel CCTV videos
Deep-learning model with the dataset of Korean mountain conditions
Division into a total of 10 detection classes including smoke, fog, and cloud

Work / Function

Short messaging service (SMS) when wildfire smoke is detected
24-hour real-time monitoring through CCTV video analysis
Estimation of the real position of the smoke detection area in video

Management efficiency

System state monitoring
Event history and statistics
CCTV and admin (for SMS) information registration
Main functions
Multi-channel
CCTV video analysis

AI based object
identification and recognition
(smoke, cloud, and
steam classification)

Real-time alarms
for events

Immediately initial
measures for
fire/wildfire
Solution features
01

Early detection of fire through the detection of 'smoke', rather than 'fire'

02

Deep-learning model of minimizing errors, such as the detection of cloud and fog looking like smoke

03

Real-time simultaneous analysis and monitoring of multiple channels
Solution environment
S/W spec.
Server
OS : Ubuntu 20.04 LTS
DB : MongoDB v3.6.3
Client
OS : Windows 10 Pro 64 bit
Browser : Chrome 102.0 or higher
H/W spec.
Server
CPU : Intel(R) Xeon(R) Gold 6334 CPU@ 3.60GHz or more
GPU : Nvidia A10 (GPU Memory 24GB) or more
RAM : 64GB DDR4 2933Mhz or more


Client
CPU : Intel(R) Core(TM) i7-4702MQ CPU2.20 GHz or more
RAM : 8GB or more
HDD : 500GB or more
Solution components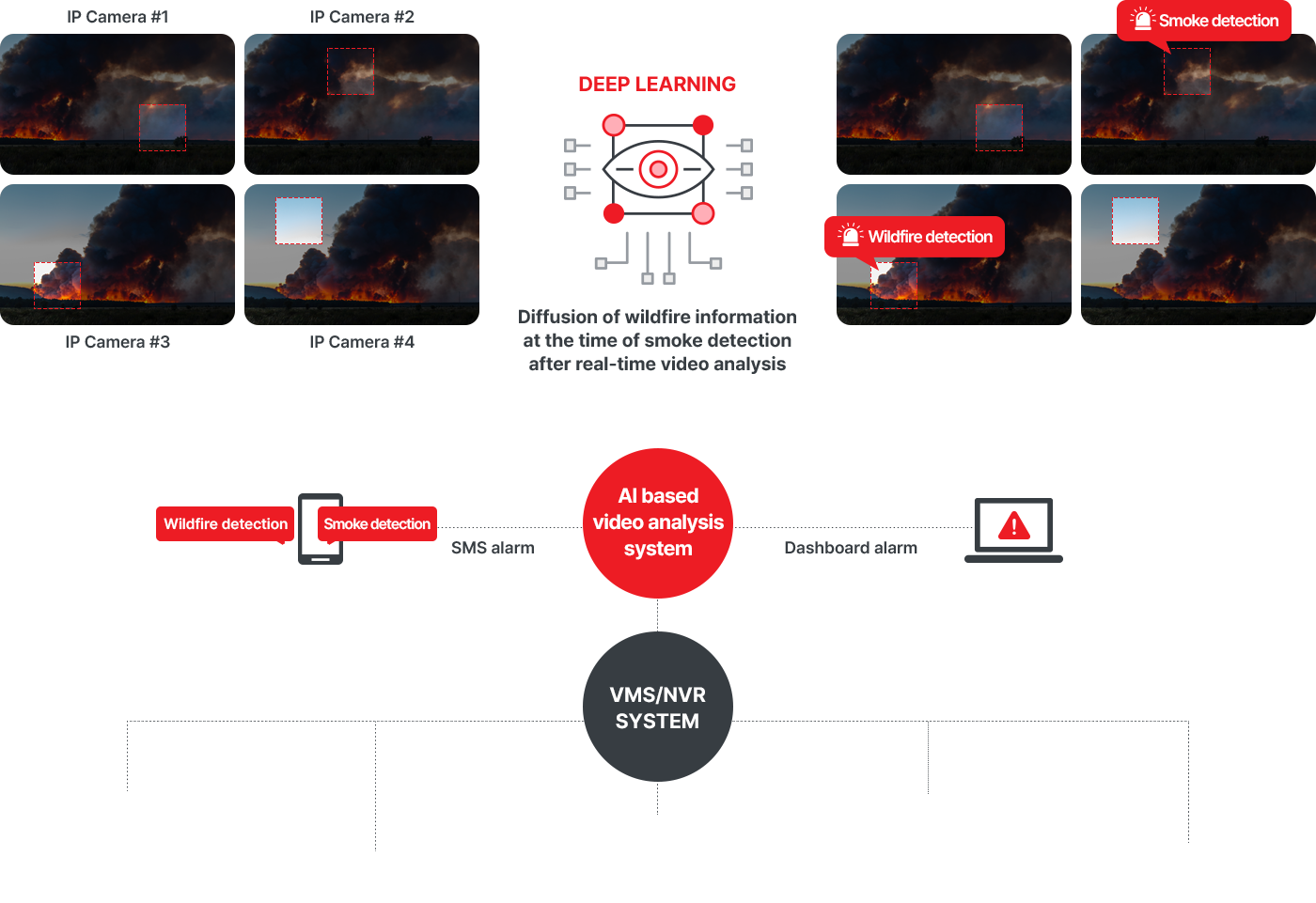 Main display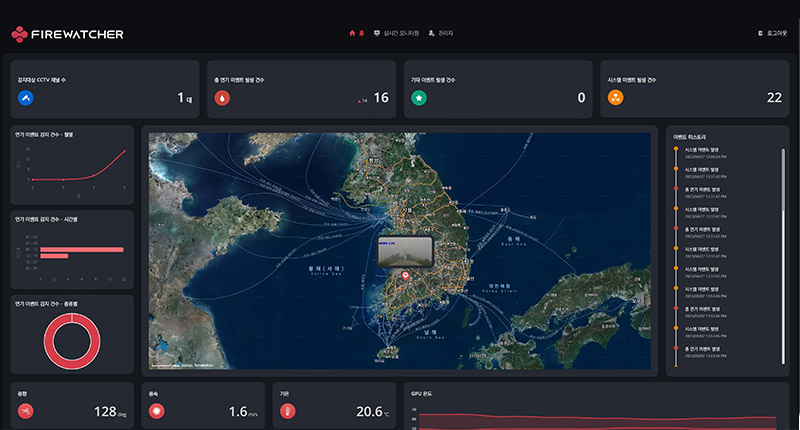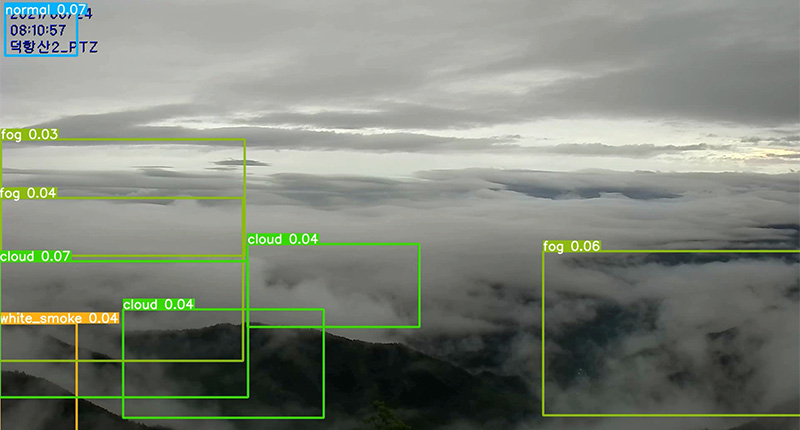 Main display

CCTV channel and event information
Event statistics data
Display of public weather environment data
System sever operation information (CPU temperature)
Event & history management
Display of GIS based camera position information

Real-time monitoring for wildfire smoke detection

Minimization of errors through the division into a total of 10 classes including smoke, fog, and cloud
Deep-learning model with the dataset of Korean mountain conditions
24-hour real-time monitoring through CCTV video analysis for smoke detection